201925may - 26All DayTHE RIDEIGANEvent Organized By: MototheNW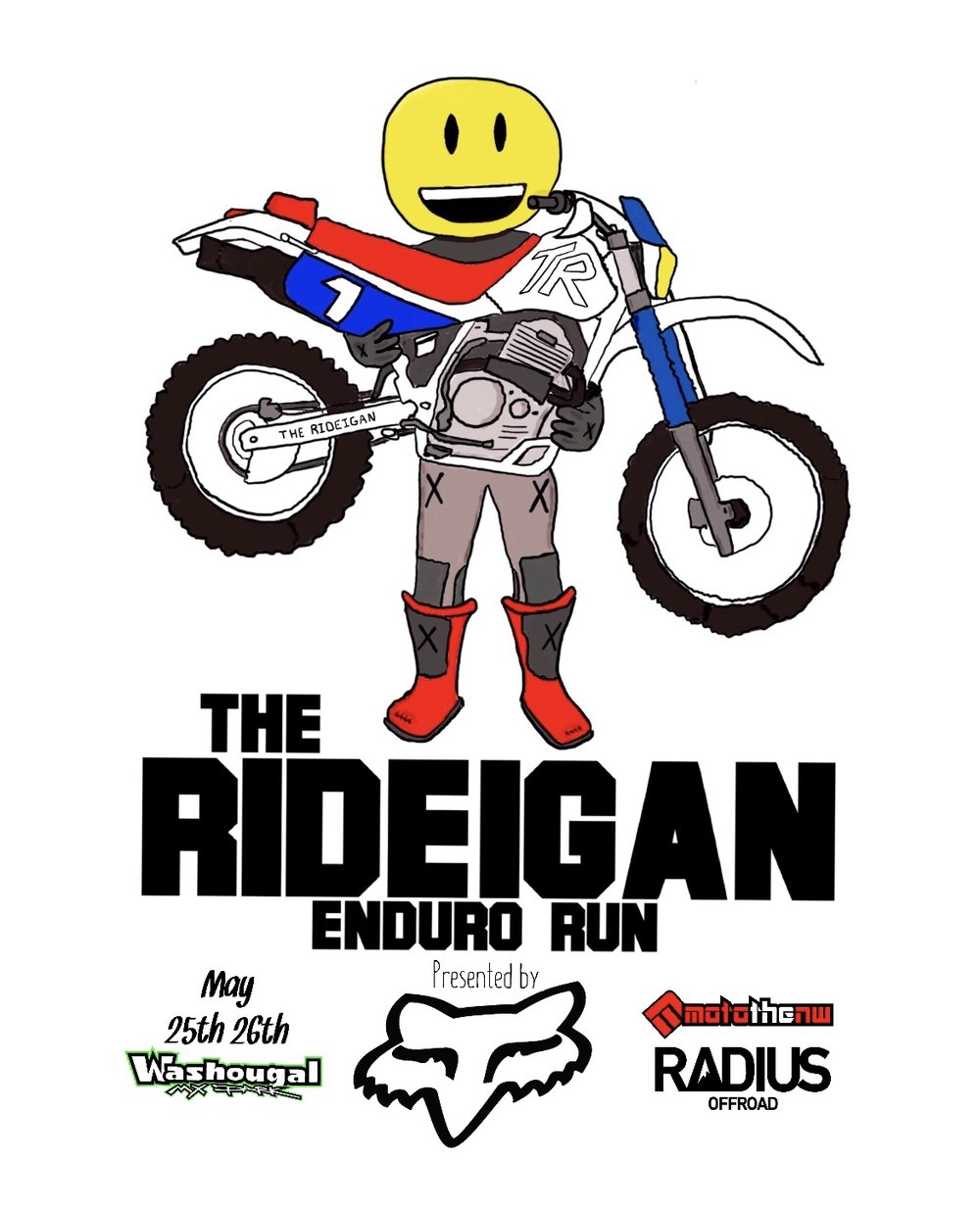 Event Details

THE RIDEIGAN is an event unlike any other. With multiple opportunities to throw a leg over a dirt bike, this event combines an off-road enduro run with timed races across three different loops.

This even truly will celebrate motorcycle culture in the northwest, featuring a Shine and Show and a rider-lottery with a chance to win cash prizes that have nothing to do with your race times.

No pressure, just fun, family-friendly and opportunities for true beginners and experts and every rider in between. Come for trail riding, adventure and enjoy beautiful, iconic Washougal MX Park.

Our goal for this event: Whether you haven't ridden in years or you ride every weekend, get out there and RIDEIGAN.
WEEKEND SCHEDULE
SATURDAY
3 – 6 p.m. THE RIDEIGAN Weekend Registration
5 – 6:30 p.m: THE RIDEIGAN Shine and Show
7:00 p.m: THE RIDEIGAN TIMED-EX (Endurocross)
SUNDAY
8 – 4: THE RIDEIGAN ENDURO RUN – An off-road loop around scenic Washougal Motocross Park property, which will be open all day. This is a unique chance for racers and family members to trail-ride an iconic property that has only been open for racing in the past.
10 – 2: THE RIDEIGAN ROCKET RACES – There will be 3 separate short loops that will be timed and each participant will get 3 tries at each loop to put in the fastest times to beat their buddies. The loops will be as follows, Grass track loop, Woods loop, Endurocross loop.
MONDAY
9 – 2: The off-road loop will be open and riding will be included in your Sunday entries. If you come just Monday, the cost to rip this loop will be just $10.
PRICING
SATURDAY TIMED RACES: $10 (18 and over only, with cash up for grabs!)
SUNDAY PRICING
*With your entry, each rider will get all day access to the off-road Fun Run Loop (roughly 10 miles of unique trail). You will receive one entry into The RIDEIGAN Lottery for cash prizes for the top 3. On top of that, we want some friendly competition. Riders can expect three timed loops. Each rider will get three attempts at each for bragging rights and trophies and prizes.
Kiddos: $20 (8 years old and under)
Youth: $30 (9 – 12 years old)
Trials Bikes: $40
Beginner: $40
Womens: $40
Twin Shock: $40
Air Cooled: $40
Novice (C Riders): $40
Master (Intermediate / Pro): $40
Organizer